Customer knowledge: integrate and secure your data
On March 23, François Labonne, Head of Professional Services and Nicolas Naparty, Customer Success Accelerator at Commanders Act hosted a webinar on Data Governance and more specifically on data integration and security. Here are the key points.
1. What is Data Governance ?
"Data governance is everything you do to ensure that data is secure, private, accurate, available and usable. It includes the actions people need to take, the processes they need to follow and the technology that supports them throughout the data lifecycle.
Data governance involves defining internal standards – data policies – that apply to how data is collected, stored, processed and disposed of."
Source : https://cloud.google.com/learn/what-is-data-governance
In summary, a Data Governance project is a structuring project for the company since it concerns all the departments of the company, and aims to improve its performance and optimize the organizational processes. Thus, certain notions will be essential in the implementation of a Data Governance strategy, such as guaranteeing data quality and securing this data.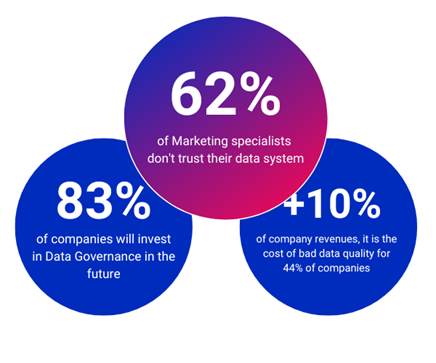 Learn more about Data Governance and its key figures with our white paper dedicated to the topic.
2. Data Governance for campaign performance
Whatever the source of your data (CRM, server, mobile, web, etc.), you need to be able to normalize and standardize it in order to get the maximum value out of it, thus opening the way to many opportunities in terms of customer knowledge: data reconciliation, data enrichment, segmentation, activation….
Preparing and structuring your data are important steps in the process of treatment. Indeed, better quality data allows you to optimize your segmentation strategy, improve your personalization, your decision making, improve data governance and ensure the security of your data. The result is an optimization of marketing investments and an increase in ROI because you will address users with the right messages, on the right channels.
3. Define the objectives of the Data Governance project
First and foremost, defining the objectives of your data governance strategy is an essential phase of the project. Only after defining them will you be able to design the architecture of the data sources on which to connect and deploy the different use cases. For example:
Do I want to improve the user experience on my website?
Do I want to deploy new omnichannel or cross-user use cases?
Do I want to improve customer knowledge?
The choice of source architecture is based on different data typologies:
Hot data: this is behavioral data from :

From the web (client-side / server-side)
From mobile (events collected via an SDK)
Servers

Tepid data:

Product catalog: which will enrich a browsing behavior
Integration of events from a third party source (e.g.: purchase confirmation from a partner)

Cold data:

CRM
Data Lake or off-line data
Partner databases
A Data Governance project is only viable if you are able to reconcile all the data sources or touch points in the system around a single view of your customer in order to enrich customer knowledge, develop new scenarios, develop new attribution models, define a segmentation strategy and finally, provide analytical elements on the performance of campaigns.
4. Data quality, a key issue for campaign performance
Once you've mapped your data sources, you need to ensure that the incoming data is as clean as possible because it directly impacts the performance of business campaigns. Quality data allows for more informed activation decisions and more accurate analytics for business success.
To do this, the Commanders Act X platform has deployed a simple method based on 3 pillar steps:
Verification: the Source Data Quality function allows you to monitor the quality of incoming data in real time. Weather-like indicators show at a glance the status of the collected events.
Monitoring: the Event Delivery function allows you to monitor all the elements sent from the platform and, as in the first stage, it is possible to check that the data transmitted to your partners is of good quality.
Detection: at this stage, an alerting system to be connected to various channels (slack, teams, email) can inform users of detected anomalies
What to do if the data quality is poor?
The solution is most often found on the source side, it may be that some properties are misspelled, or that the partner has set them up differently. The Data Cleansing function allows you to simply correct and transform events in real time before sending them to your destinations.
Once the data has been corrected, it can then be transmitted to partners via connectors available in a catalog, or via APIs.
5. Data security, a prerequisite for compliance
Ensuring data security is all about defining roles and responsibilities within your organization. Indeed, not everyone should have access to the same data or to the same functions of the platform. Thus, it is necessary to be able to manage user access rights (Manager, User, Administrator) in order to respect these predefined roles. Access to the logs is a prerequisite for verifying the actions that have been carried out on the platform, possibly versioning and rollback if necessary. Double authentication is also a security factor to consider when implementing a Customer Data Platform.
Download our checklist to implement your Data Governance strategy