Why is it important to do AB testing with your CMP ?
The subject of consent, sometimes delegated to the legal, becomes eminently marketing. It is no longer a matter of collecting consent, but also of scripting it, testing it, measuring it... Consent is no longer just a compliance issue, but a marketing issue in its own right. As such, the consent rate must become a marketing metric in its own right, and benefit from the same optimization efforts. All the best practices deployed to improve the performance of other marketing metrics - A/B testing, usability, UX, etc. - should be applied to consent, to improve the opt-in rate which is a fundamental element of current and future marketing strategies. Consent Management Platforms are definitely a marketing issue.
That's why we recommend that you do AB testing with your consent banners.
How many variants to test?
Real sharing test with 2 variants: 50 - 50
Low risk sharing test: 90 - 10
An efficient n-test with 3 variations: 80 - 10 - 10
How long to test?
Low traffic websites: 2 weeks
Medium traffic websites (20+ millions pv / month) : 1 week
High traffic websites (20+ million pv / day) : 2 days
How to do an AB test with TrustCommander?
Follow our step-by-step recommendations.
Step 1: Design your CMP with TrustCommander.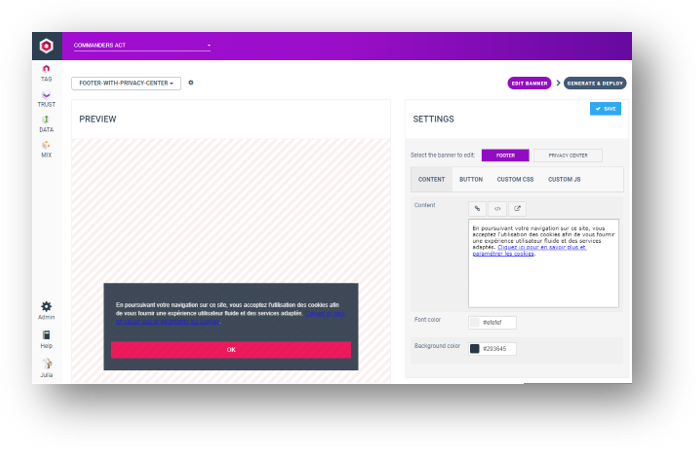 Step 2: Create a data store.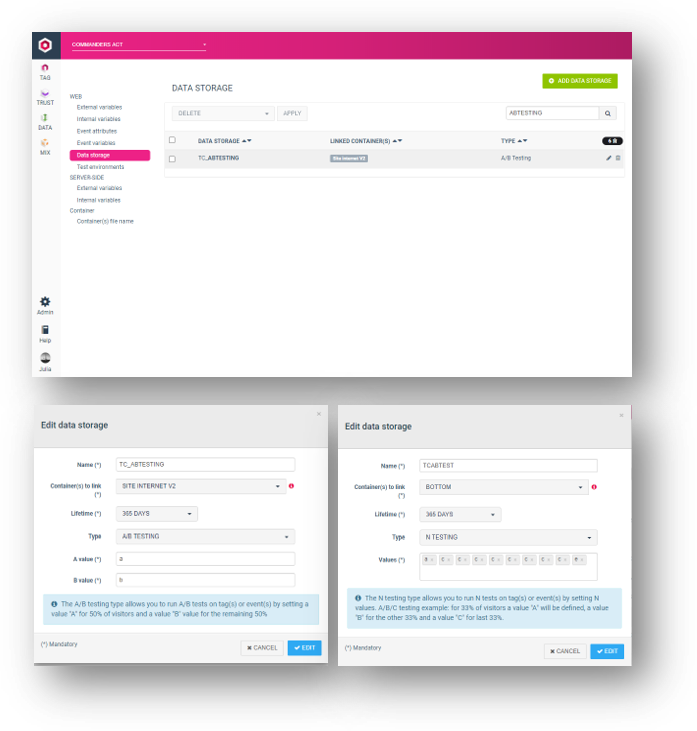 Step 3: Add privacy constraints.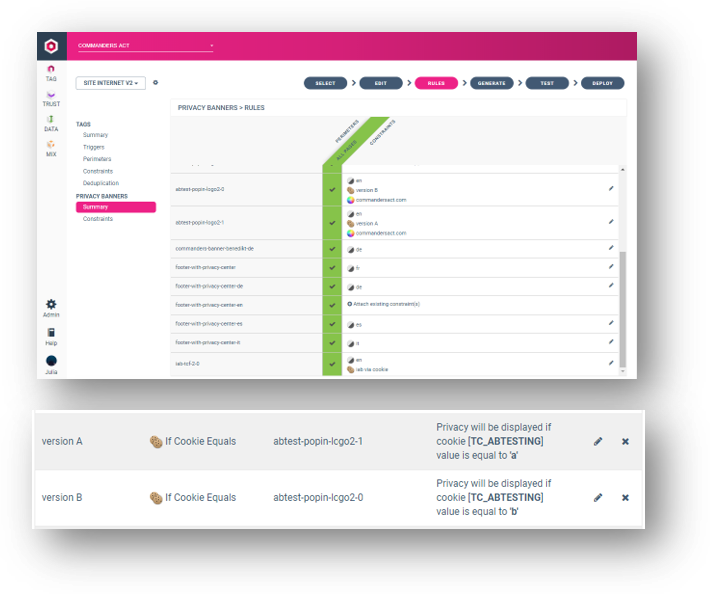 Step 4: Activate and generate.
Step 5: QA and documents.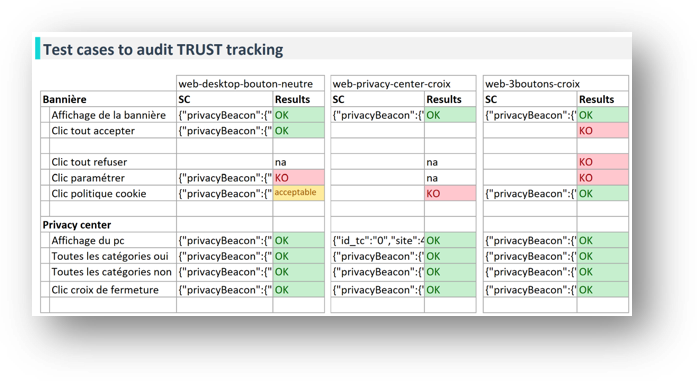 Step 6: Unfold and let it run.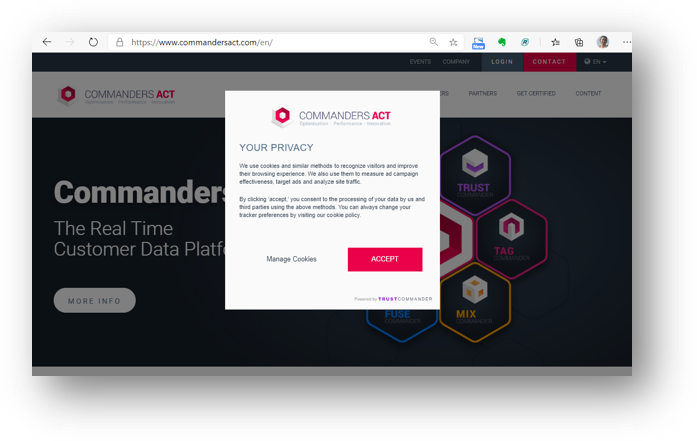 Check it out third edition of our privacy barometer here and discover which are the most effective consent banners.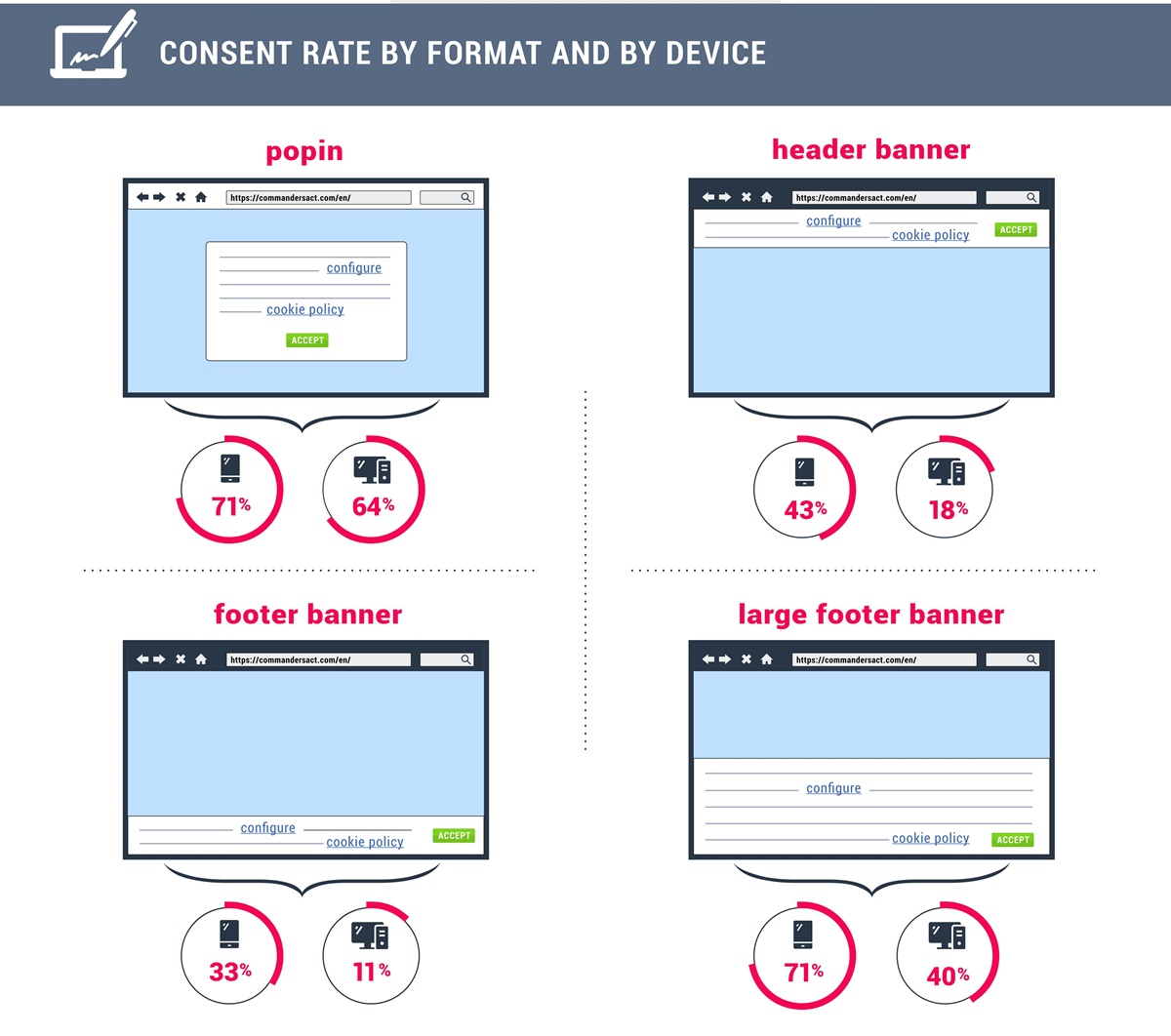 About TrustCommander
TrustCommander is our Consent Management Platform. Through CMP, you can create a sustainable consent scenario, customize your banners, popins and preference center, analyze consent performance and adapt your banners according to regulations. TrustCommander allows you to natively test multiple consent collection messages.
Customization: Create banners and preference centers that look like your company!
Compliance: CNIL, RGPD, CCPA, IAB compliant banners.
cookies categories: Categorize your cookies to facilitate user preferences.
Proof of consent: Ensure retention and traceability of proof of user consent.
Detailed reporting: Evaluate your consent strategy by analyzing opt-in rates.
Compatibility: Link TrustCommander to TagCommander but also to other TMS, to your hard and hybrid tags.
Want to know more about AB testing? Take a look at our Privacy Cookbook here.